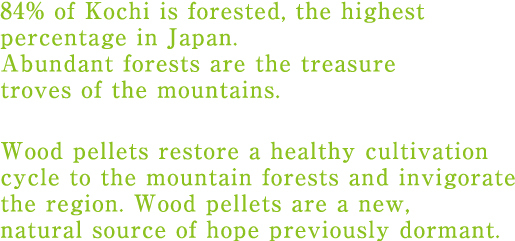 Eighty-four percent of Kochi Prefecture is forested, the highest ratio of any prefecture, and 65% of this land is cultivated forest, the second highest figure in Japan. Furthermore, with the prices of timber at a low and the aging of forestry workers in Japan, there is not enough incentive to maintain cultivated forests, and a large number have become neglected.
Timber thinning is necessary to maintain the health of forests, but unless there is a financial motive to do so, the costs and labor involved are prohibitive.
The production of wood pellets by converting thinned timber into biomass fuel holds tremendous potential for supporting people's livelihoods.
By creating a new industry, employment opportunities are created for mountain villages and towns, and with them local regions can become revitalized.
Until only a few decades ago, everyone living near forests cut down trees and used firewood for fuel and cooking. Since the advent of fossil fuels sourced from across the globe, our lives have become more convenient. But it is time, again, to consider local resources and restore a sustainable cycle of land use that benefits local communities.